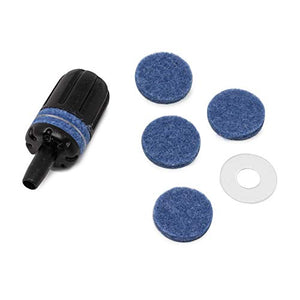 Material : PC + PP
Size : 12mm X 35mm
Color: black + several blue rings
Feature
Much more water moving with low back pressure
Very well working even at a low power air pump
Can be disassembled and be cleaned if they clog
We Recommend Under gravel Filter, Sponge Filter and Side Wall Water moving with sucker
Can also be used separately since the air stone sinks.
Parcel has not been received yet
Nice piece of airstone for a good price!
The airstone is the first I ever found that allows to adjust the ammount of bubbeling at the airstone itself. Ok, you will not have to do this very often after your initial setup, but it is nice to have this possibility to adjust the bubbeling size so precisely. From the american youtubers I heard tha this airstone will apparently never cloak up. To ealry for me to say anything about this right now. But when I look at the construktion of this piece I can really good imagine, that it will last nearly "endless". Thanks for inventing this airstone.