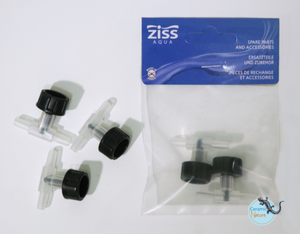 The Ziss Aqua ZAV-4 is an air valve that fits on an air hose of 4 mm. The air regulator can regulate the amount of air, creating the desired amount of bubbles from the air stone in your aquarium.
air valves
just the best you can get !!!!!!!
Best air-valve I have come across!
These air valves are very fine threaded and therefor enable you to fine tune the air flow to your tanks superbly. I am currently running 8 breeding tanks on these now and I am able to adjust the air flow and therefor the current in the tanks into detail. This definitely helps me raising fry through all phases to adulthood.