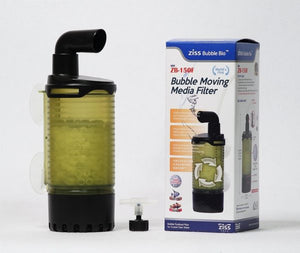 The world's first aquarium filter with moving filter medium.
The moving bed filters from the new ZissAqua bio-series. The "F" models have a different head than the other moving bed filters that provide more flow in the aquarium water.
All moving bed filters have very stable and strong suction cups and can be placed anywhere in the aquarium.
The first stage is a filter sponge that sucks up coarser dirt.
The actual filter chamber (phase 2) contains the new Ziss filter medium ZM-II (150 ml). The filter medium has a "service life" of up to 15 years and a size of only 7 mm.
The filter is connected to a diaphragm pump by means of an air hose (both not included in the scope of delivery). The flow can be adjusted with the supplied regulator. The air supply keeps the filter medium in constant motion.
Working looks good!
New started aquarium 60 litres.
It's à bit more noisy than à external filter.
Waterconditions are stable, but on this moment only plants! Next week the first fish.
Curious what the filter does from that moment on.
Unfortinately parcell has not artived yet...