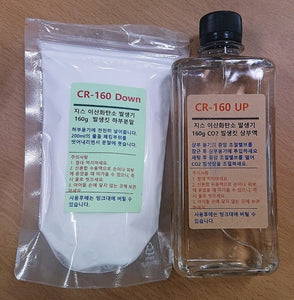 Ziss CO2 generation kit ZCR-160 contains No. 1 solution and No. 2 solid. 
Fill the top of the ZCI-II with the #1 solution and place the #2 solid in the bottom of the ZCI-II 
Then adjust the number of drops of #1 solution in the #2 solid with the control knob.
ZCR-160 kit generates 160g of CO2. #1 solution and #2 solid can be stored at room temperature.
160 g CO2 generation kit
Can be used at an aquarium temperature of 5 ~ 40 oC
Can be stored at room temperature
Stop playing hard to get.
Make it easier to order refills from USA.